Local Search Marketing….

Guaranteed 300+ Visitors a Month!

Welcome To FBM SEO! 
Powerful Local Search Marketing Formula!
Questions CALL 800-664-1214
Here's the deal. After watching the video above, we realize the best thing for us to do is make certain we answer the questions you have about FBM's SEO "Local Search Marketing", because without luck, you already know FBM's Local Search Marketing formula will help take your business to the next level.
No sales hype here – below is a list for all the FBM SEO Local Search Marketing features found when you get started. A complete description of each service package available, we also have a solid web traffic guarantee. In fact, look at some of our clients Google Local Search Rankings…
3 CLIENT'S LOCAL SEARCH MARKETING RESULTS



EVERYTHING you'll receive in FBM's Local Search Marketing…
GRADE "A" Google Pages. Every page created for your site contains Grade "A" page rank for the highest Google positions possible.
Superior Web Visibility. The Grade "A" page ranking is a Skill and Art very few understand. These search engine optimized pages dramatically increase web visibility.
Continual Backlinks. FBM Local Search Marketing is a formula and uses backlinks from thousands of social media websites. These social sites bring a "BUZZ" to you site and keep it ranked in Google.
Unlimited Web Traffic. There is no limit to the amount of web traffic you can receive. Each month your website will receive more Google trust, which will help increase rankings. You do not pay per click on your website.
100% Auto-pilot. No work is required from you. Simply sit back and watch the lead flow come through our 3rd party tracking software.
Stats Tracking. Use ours or input your own. Our 3rd party tracking software shows exactly who is visiting your site and exactly what they are searching for allowing you to see the powerful impacts of your local search marketing investment at work.
Build Equity. If having the choice to use Pay Per Click Adwords or SEO, SEO is clearly the winner. As you saw in the video, our local search marketing SEO builds equity in your business.

CONSTANTLY INCREASING LOCAL WEB TRAFFIC
Thousands of Grade "A" Web Pages bring increasing web traffic each month. The more content a website has, the more opportunity to be found in Google.
Crush Competition by providing Google, Yahoo and Bing what they want. They want relevant web pages to topic discussed.
Relevant Content is provided on each page per keyword discussed. This is a huge factor that meets the search engine requirements. All content is keyword optimized for you local business location.
Fresh Content is posted every day keeping Google "Laser Targeted" on your website. Google wants fresh content. This brings the Google Bots back to your site time and time again and feeds the search engines the new content. All content is unique.
Site Growth occurs as your website gains more content. Google needs age and relevancy. The more relevant content, the more trusted your site becomes and the more visitors you receive. Your site content will grow as your domain ages.
Domain Age brings credibility to your website and tremendously helps Google Rankings. The longer you use FBM local search marketing, the more web traffic you will receive.
FAST INDEXING & BACKLINKING & SOCIAL SYNDICATION
45 Day Indexing means your new SEO content will be indexed in Google in at least 45 days time. Many times we can have new keywords ranking in 1-2 weeks. Many sites on the internet are not indexed in Google, this is one of the first steps to ranking a site.
Continual Backlinking means we know that web pages need backlinks to rank. We have custom developed backlinking tools to help with rankings and the backlinking process.

This tool alone is worth the cost of FBM's local search marketing SEO.

We provide thousands of monthly backlinks when needed.
Solid Google Understanding means we keep up with Google changes, we know when changes happen and adapt so you keep your website rankings.
Targeted Content means we guarantee you content is GEO specific for each local search marketing campaign created.
Google Site Map Submissions means we tell Google what to index and what not to index every day. This keeps your website fresh, updated, and relevant.
Social Syndication means we submit your content to over 25 social networks automatically i.e. Facebook, Linkedin, Twitter, etc. This allows your web pages to be indexed immediately and ranked within the hour.
Directory Submissions means we submit your site to over 2,500 web directories for added search exposure and social proof. Your not only found on Google, Yahoo, and Bing, your found on the other search engines too.

LOCAL SEARCH GOOGLE MAPS PLACEMENT
Google Power means we know what Google needs to find your website in Google Maps.
Google Locator means Google will find your store or business when people search for your business in your area.
Targeted Visitors means we will use the right "Keywords" inside our Google Business Center so the right customers find you.
Citations Included means we create citations to other websites like Yellow Pages, Super Pages, etc.. Citations solidify the realness your business location to Google. Google then ranks your business address in the specific location. 
Hands Free means we take care of the headaches and have been down this road before. Google maps are a huge source of traffic if completed successfully. Our trained staff of professionals will get your website found.
POINT & CLICK LOCAL KEYWORD TRACKING
Ability to Track All Results means you can see exactly who's visiting your site and what they are searching for. You will have a log-in and password to activate your 3rd party tracking account.
3rd Party Tracking Software means everything is honest. We use 3rd party tracking software from www.statscounter.com. If you would rather use your own tracking software or Google Analytics, we can install that tracking software as well.
Time Framed Results means you can view results over a long period of time.
Point Click Rankings you can click keywords searched and see exactly where you rank.
Google, Yahoo, Bing Analysis means you can see which search engines are bringing you the most local traffic.
Downloadable Reports means you can download all reports for custom analysis. All results can be downloaded into excel for future record analysis. You can compare how your results are increasing each month.
Choose Your FBM SEO Local Search Marketing Plan:
STARTER, PRO, or ULTRA
Of course, every FBM SEO Local Search Marketing package includes UNLIMITED lead flow, Google Maps, and Tracking – you just decide how big you want your SEO campaign to be, and pick a package that best meets your needs.
FBM SEO comes in three levels of service – Starter, Pro, and Ultra – or, Big, Bigger, and ENORMOUS. You don't have to buy any more FBM SEO Google Juice than you absolutely need. Start small, and upgrade your package at any time!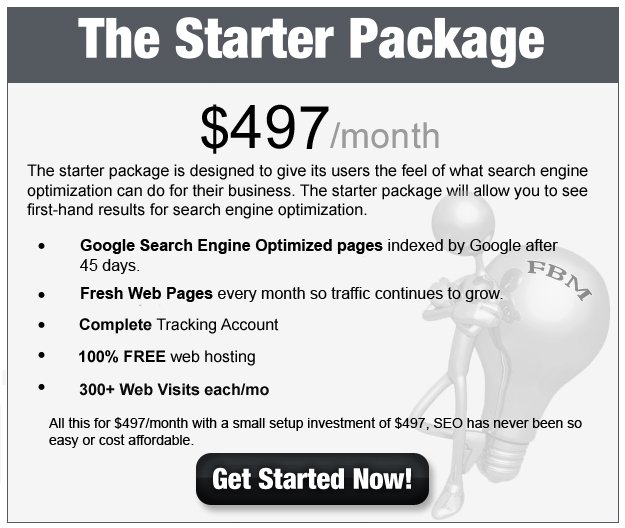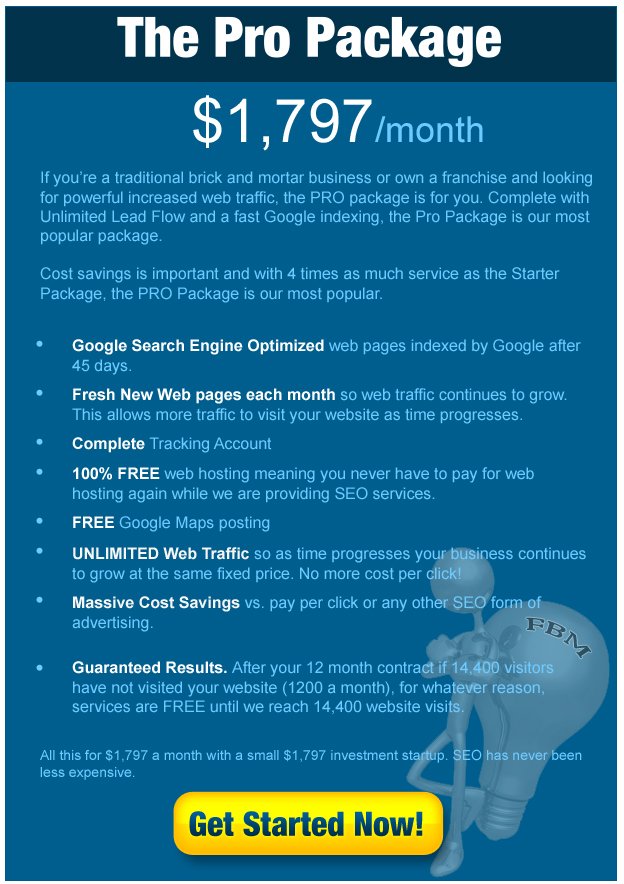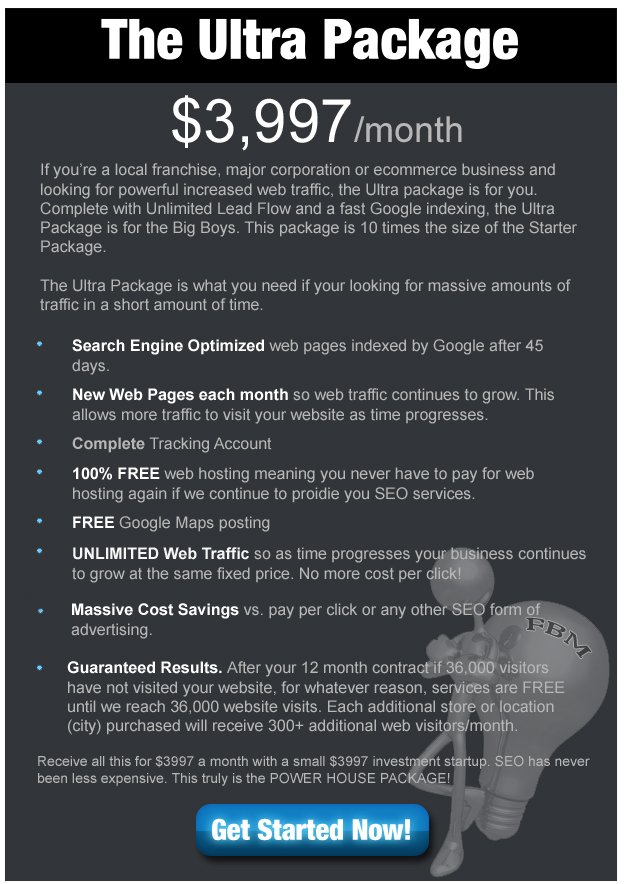 IMPORTANT: What Happens if You Receive More Lead Flow Than Expected?
Absolutely nothing happens if you receive more lead flow or website visits than expected. This is not a cost per click program. This program simply estimates click amount and guarantees a click amount over a 12 month period of time. Many times our clients exceed the expected amount of clicks on their websites.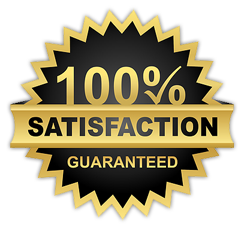 The 12 Month Satisfaction Guarantee
We believe in making our clients happy and put our money where our mouth is and guarantee the amount of traffic you will receive. After 12 months of service, using the Starter Package you will have received 3,600 page views, the Pro Package 14,400 and the Ultra Package 36,000 or service is FREE until the guaranteed amount of page views have been reached. Many times lead traffic surpasses the amount designated, but we also guarantee it!
Start a FBM Local Search Marketing Package Today!
Between the video and details provided above, there should be no question at all what FBM SEO Local Search Marketing is, what it does, and what it WILL do for your business. SEO has never been so cost effective for any business!
To get started immediately, just click the "Get Started Today" button below.
We'll see you inside. 🙂